The tropical climate of the Philippines and its spectacular beaches has made it a popular destination for tourists around the world, especially those seeking to escape the cold weathers of their home. The waters are filled with abundant marine life and teeming with biodiversity, making it a world-famous diving and snorkeling destination. Visitors have endless choices when it comes to accommodations; and although inter-island travel in the Philippines is generally affordable, there are also a number of luxury resorts in many beaches as well as backpackers' accommodations to suit travelers with varying budgets.
The different beaches in the Philippines have unique characteristics, with something to offer for discerning travelers who have varying needs and wants when it comes to their travel experiences. While many go to beaches to relax, there are also beaches that are famous for its nightlife and party vibe, and among the most popular of these is the beautiful island of Boracay. For those that are seeking beaches that blend nightlife with scenery, other choices include Cebu, Puerto Galera, Negros Oriental, Puerto Princesa, and Panglao. Thousands of foreigners have made Philippine beaches their homes, after being unable to resist the lure and charm of the islands.
On the other hand, there are also many beach destinations if you are looking for a quiet, relaxing escape where you can just sit back, read a book, and still be treated to breathtaking scenery. These include Palawan, Camiguin, Davao, Pagudpud, Batangas, Batanes, Bataan, and Cebu as well. In many beaches, you will also find friendly locals who are more than happy to provide you with interesting bits of history and information, and even great secret spots that have not been published in many travel guides.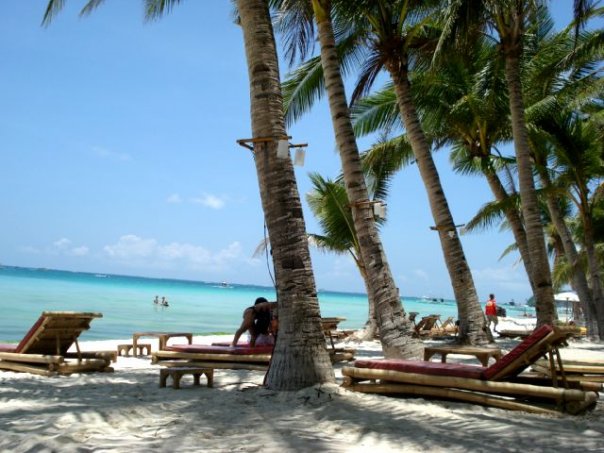 Apart from beach activities, snorkeling and diving, many beaches around the country are blessed with exciting landscapes and mountains where travelers can trek and hike. From simple routes to more complex treks, hiking is a great way to get a panoramic view of the coastline, and get some exercise at the same time. However, be sure to talk to a guide who can offer information of the trail, and bring along the proper footwear. Some resorts include these in adventure tours, as well as on trails that will tour travelers on the best of each island.
The rich flora and fauna endemic to various locations in the Philippines can also be seen in many adventure tours, such as touring Bohol and seeing the infamous tarsier, which is also an endangered species. Because the country's landscape is very diverse and blessed with rich animal life that live in the mysterious forests and jungles close to many beaches, travelers also have the option of exploring these during their trips.
Apart from enjoying outdoor activities, don't forget to refresh yourself by trying local specialties such as mango shakes and the "halo-halo" ice cream. Both cold chillers are famous in the Philippines and are available in many resorts.