Another one bites the dust indeed. Just past midnight of November 8, 2010, NU-107 signed off after 23 years of rock music.
I first heard the news through the blog of NU 107's former DJ jaeDee. Although the post isn't live anymore, she announced that NU 107 is going through major re-formatting by start of 2011. (You can check out the cached post here) The DJ revealed this formatting would slowly be integrated into the schedules until the day it formally turns into another station playing masa pop songs probably with their own version of "kailangan pa ba i-memorize yan?"
The revelation, of course, shocked many people particularly those of us who grew up listening to the station. It was NU who introduced us to OPM bands like Rivermaya, Eraserheads, the Teeth, Yano, Put3ska, Sugar Hiccup, Queso, Greyhoundz and aired Nirvana, Beatles, The Doors, Led Zeppelin, The Cure and other foreign acts you couldn't listen to anywhere else. Aside from RX, my brother and sister used to withstand Rosario traffic going to school with Zach and Joey.
DJ jaeDee's announcement wasn't completely true. Since the "slow transformation" didn't occur because the station didn't torture their loyal listeners to a formatting they didn't tune in for. Instead, on November 3, Quark Henares confirmed the news with:
It's time to come clean, everyone. after 23 years, NU107 is finally closing shop. we're sorry it took so long for us to confirm this. we were hoping for a miracle, I guess. so just hear this and then we'll go. you gave us more to live for, more than you'll ever know. 🙂
He also announced the schedule for a week of tribute and farewells: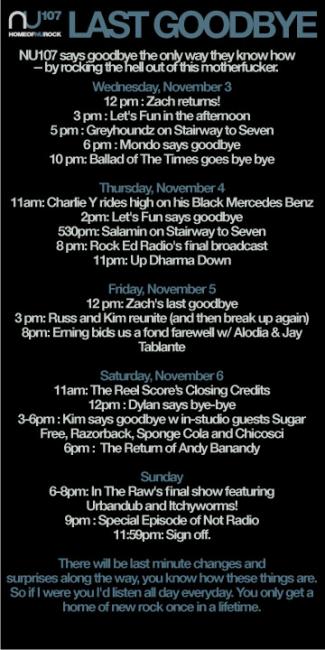 People from all over came to visit the station throughout the week, even lighting up candles on the street. But the last day was an emotional one with all-out support for all NU DJs (both past and present). After plenty of tears and visits from local bands, it was down to the last hour. The second to the last song played was "There Is A Light That Never Goes Out" by The Smiths, which was followed by farewell statements from Francis Brew and Cris Hermosisima who said "This is NU 107… and we are signing off." The final song from NU-107 was Eraserhead's "Ang Huling El Bimbo," which I think is pretty appropriate. After the last Lupang Hinirang was aired, people mourning for the station stayed for a good 5 minutes.
Now if you tune in to 107.5, you'll hear 107.5 Win Radio – a new station that would probably be playing Justin Bieber and the like. Atom Henares said in one of the interviews that they're thinking of continuing NU's rock format in the internet. I do know from inside sources that the DJs fought tooth and nail to keep the format, so whatever NU bosses decide, no one can argue that closing down of NU-107 still is the end of an era and the station will still remain a part of our lives forever.
Photos by Malaya Echevarria