In December, I attended our high school reunion held at Cattleya Farm Resort in Antipolo. Online, Cattleya's website is pretty impressive with complete details on price, photo galleries,  a 360-degree view of all available spaces to rent out and reservation information. As I recall, Cattleya can be booked quickly via its online reservation form. We were lucky enough to have it reserved after a client cancelled on that date.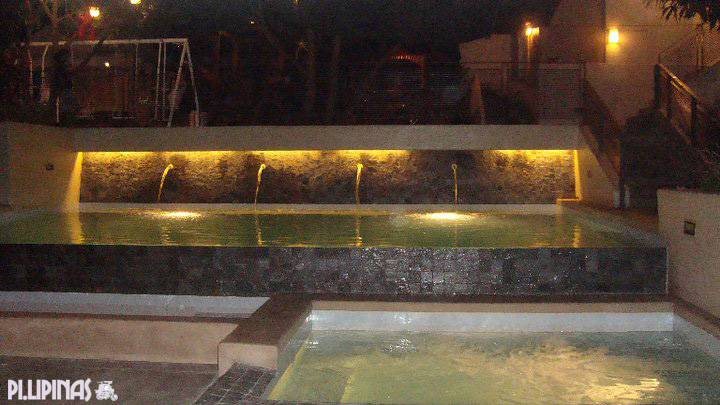 Two weeks later, one of my high school classmates wanted to book the place for her son's birthday. For a season not so good for swimming (it was a week before Christmas), all resort houses were fully booked. Cattleya is in-demand for a reason. The place is a must-visit when you're looking for near-Manila out-of-towns but with a peaceful vibe.
When we arrived at Cattleya Farm Resort, the compound was quiet, except for a few houses that were hosting other guests. The spacing of each house was enough to have your own privacy and NOT hear videoke-singing from the other groups.  That goes without saying that you can also sing your hearts out with videoke and not get your "temporary neighbors" bang the doors on you. Also, as per barangay ordinance, you can only use it until 12am.
Dominique
Upon entering Dominique, you'll be greeted with a huge sign listing down resort rules. It included basic pool rules like no eating/drinking in the water, no rough playing,  use swim wear only, and so on. You'll see everything from the entrance – including the space for parties, the big pool, a small Jacuzzi, a nipa hut, the comfort room at the top of the stairs, and a very very nice view of the city.
CAPACITY: Most of their houses can accommodate 50 people. My former classmates who attended the reunion were only about 25, so the place looked pretty big for us. It's perfect for any kind of gathering, but it's probably too casual for weddings.
PESO POWER: All of the pools at Cattleya resort have two types of rates – one for day rental (9am to 5pm) and one for night rental (7pm to 7am). Day rates are about 2,000 pesos cheaper than night rates. We got Dominique for 9,600 for an overnight stay. Although there isn't any room for sleeping, except for one nipa hut with aircon. If you're planning to stay here overnight and you're bringing kids, check out other pools with rooms they could sleep in. Here's the page for Cattleya Resort rates.
INSIDER TIP: There's a small sari-sari store within the Cattleya Resort, but just like any other Antipolo resorts, the prices are way too high. Since the management isn't strict about bringing in food and drinks, make sure you buy everything you need. There's also a market about 30 minutes away, if you really need to buy something at the store. 🙂
How to get to Cattleya Farm Resort: To get to the resort you can go to Antipolo either thru Ortigas or Sumulong highway. Once you get to Antipolo proper, the easiest landmark to find is the YNARES Sports Center. From there, proceed to Unciano Hospital. Turn into the road right between the hospital and gasoline station. Follow the road on the map below. Cattleya Resort will be on your right.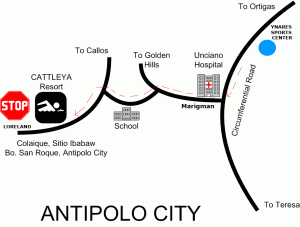 CONTACT:
You can send a text message for Information at 0917-8169759
Call Mr. Peregrino for Reservations at 6970769 / 6965839
Call Vicente S. Benito (Resort Manager) at 9114341 / 9114407
FACEBOOK: For updates and promos, check the Cattleya Resort Facebook page
WEBSITE: http://cattleyaresort.com