The Philippines is endowed with natural beauty: miles of beaches, white sands, turquoise waters, abundant marine life, lush mountains and hills, breathtaking coastlines, flora and fauna, and great tropical weather to enjoy it all with. The Philippines' beautiful 7,107 islands are truly a pride of the locals, and enjoyed by visitors who come from all corners of the globe.
1. Boracay – Located in Western Visayas, the island of Boracay has been a favorite holiday getaway for Filipinos; and because of its popularity and reputation for being the finest beach in the world, has also been a much-loved destination for foreigners. Developments on the island now offer visitors complete amenities and endless choices when it comes to food, accommodations, and beach activities. One aspect that makes Boracay particularly popular is its nightlife. The island seems to come alive at night, with every bar and restaurant pulsating with music, rhythm, and a generally pleasant atmosphere.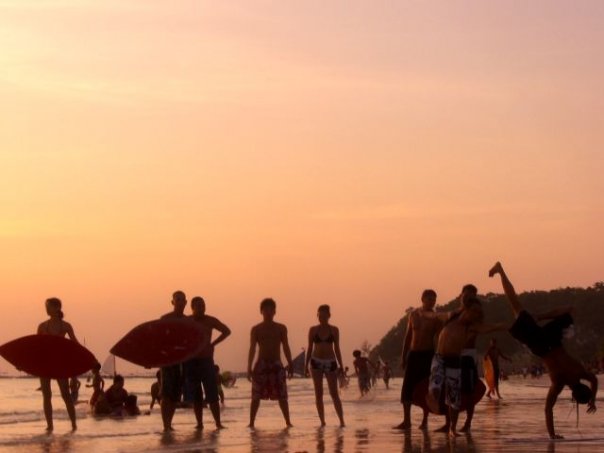 2. Tagaytay – Just 37 miles south from the country's capital of Manila, Tagaytay is an ideal place to get away from the hustle and bustle of the city, especially during the summer because of its high altitude. Tagaytay has clean air, a crisp, cool climate, abundant greens, and a wide array of delicious restaurants and comfortable accommodations. The highlight of visiting Tagaytay is the spectacular view of the Taal volcano, which is situated within Taal Lake. Popular activities include picnics, horseback riding, and golf.
3. Bohol – Situated in Central Visayas, Bohol is a popular destination; it combines the best of beaches, natural beauty, as well as historical and cultural attractions. Many historical structures and churches dating back to the time of the Spanish colonial period have been well preserved. Apart from its white sand beaches, other must-sees in Bohol include the Chocolate Hills, which is probably the most notable tourist attraction of the province; its magnificent waterfalls, and the Bilar Mahogany Forest.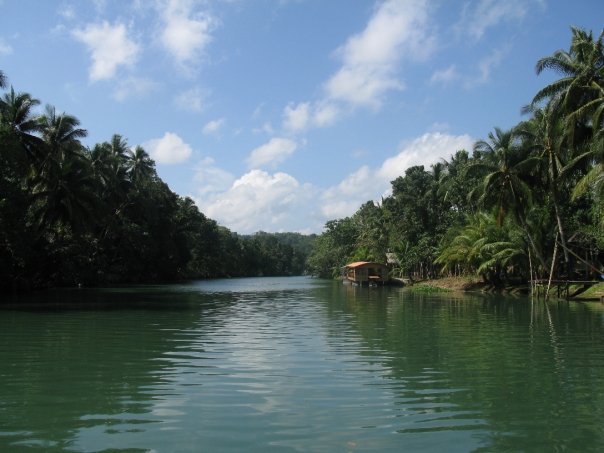 4. Camiguin – Camiguin lies in the northern area of Mindanao. The small island province is small enough that one can tour its perimeter by car in one day. It is known for several attractions, such as the White Island, a tiny patch of white sand and clear waters which is just a few minutes away by bangka. Camiguin, being a volcanic island, also boasts of 7 volcanoes. One can never run out of things to enjoy in the island, with its Sunken Cemetery, which is especially majestic during sunset; breathtaking waterfalls, cold and hot natural springs. Historical attractions also abound, such as Old Catarman Church Ruins, and the Stations of the Cross.
5. Baguio – Located in northern Luzon, Baguio is a favorite getaway during summer for its cool weather. It has been highly developed and boasts of numerous cozy inns, but has also preserved its historical attractions. Visitors of Baguio are treated to sunny mornings, cool afternoons, and chilly nights, which many find to be romantic. Coffee in Baguio is exquisite, and the food is wonderful. There are a number of outdoor activities to enjoy, such as picnicking and horseback riding, as well as attractions such as the Burnham Park, Session Road, Baguio Cathedral, Mines View, Wright Park, Baguio Botanical Garden, Maryknoll Ecological Sanctuary, Lourdes Grotto, Asian Hot Springs, Bell Church, Wood Carver's Village, and the Easter Weaving Room.
6. Siargao Island – Located in Surigao del Norte, Siargao Island is a favorite destination of local and foreign surfers, giving it the nickname of Surfing Capital of the Philippines, and hosts a number of surfing competitions every year. Apart from surfing, the tear shaped island of Siargao also has white sand, coconut-tree lined beaches, a sand bar, lush jungles, and a very relaxing atmosphere. Popular activities aside from surfing include caving, fishing, kayaking, island tours, and boat trips.
7. Pagudpud – The sleepy little coastal town of Pagudpud is situated in northwest Luzon. Here you won't find a highly developed resort area; but rather, many nipa huts, little stores, and stretches of glorious coastlines and spectacular beaches that are ideal for camping. Instead of hotels, Pagudpud offers a number of affordable inns that make it easy for any tourist to commune with nature. Because of the town's remoteness, Pagudpud is an ideal destination for tourists who want to enjoy the beauty of Philippine nature in isolation, probably shared with a few other campers.
8. El Nido – Located in Palawan in Western Visayas, El Nido possesses majestic natural formation and spectacular beaches that have intrigued and enticed tourists. It also has extremely diverse ecosystems, white sand beaches, limestone cliffs, abundant marine life, rainforests, and breathtaking, mysterious lagoons. The sleepy province of El Nido offers a range of accommodations, but the islands also have five star exclusive hotels. Boating is a popular activity and mode of transport, as the region has countless islands waiting to be discovered. El Nido is also a preferred destination of divers for its stunning marine life.
9. Dumaguete – Dumaguete City in Negros Oriental boasts of the best of historical and natural attractions. The city was significant during historical times, and the Japanese Imperial Forces occupied the city during World War II. Over the years, people from other countries have been unable to resist the charm of the city and have made it their home. The Rizal Boulevard is especially charming during sunset, as one can watch people from all walks of life. Other popular attractions include Silliman University, Twin Lakes, Apo Island, Dolphin Watching, and the Sugar Mills.
10. Sorsogon – Situated in the province of Bicol, in Sorsogon you will encounter probably one of the most unforgettable experiences possible in the Philippines – swimming with whale sharks. These gentle giants have long called the Bicol province their home, enthralling thousands who have come to swim alongside them, many who claim the experience is "surreal". Apart from this, Sorsogon offers a plentitude of choices when it comes to exploring the island, which include Bulusan Lake, Rizal Beach, Bacon Beach, Paguriran Island, Pagol Beach, and Sta. Magdalena. Many beaches here have affordable resorts, and are also scenic and idyllic, a choice location for campers.